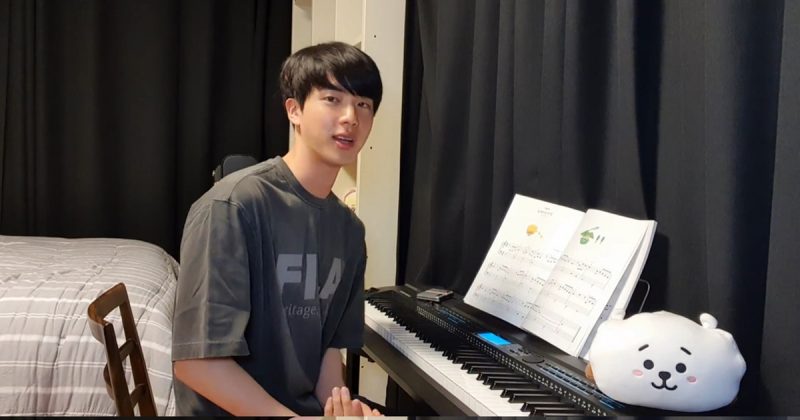 The group, BTS Jin said, "I started playing the piano as a hobby," and played the piano for fans all over the world.
Jin revealed the process of working on the new album by showing his daily life via YouTube's official "BANGTANTV" on May 25th.
Jin, who appeared in a comfortable outfit, sat in front of the piano and said, "I'm embarrassed to show you soon after I started piano, but I made an album and thought about what to show for my spare time, and then I started doing (YouTube Live) to show off my new hobby."
"I just practiced, but I was so nervous that I couldn't see anything. I ask you to take a look at it, 'It's a new start, it's cute,' he added.
Jin played the piano while reading music, drawing enthusiastic responses from fans watching in real time. "I started playing the piano with my friend. To show it to a friend, I recorded and song for an hour, and I heard that it was 'cool.'" he said, expressing his passion.
In addition, Jin revealed the work of the new album, "Jimin and V decided to take on music and visual respectively. They suggested to me what would it be like to take on the costume, but I said no. Suga said he would try to design the album, so I'm thinking of joining the design of the album.
Jin has been into playing the piano for a while, and finished his Youtube live performance after playing one more song, saying, "I have to practice hard, but it is still not enough." For about 40 minutes, he showed his best effort to give his fans a great performance, and he also hinted the process of working on the new album and raised the fans' expectations.
BTS has been communicating with fans since April 17 by unveiling their daily lives and the working process of the new album through "BTS TV."