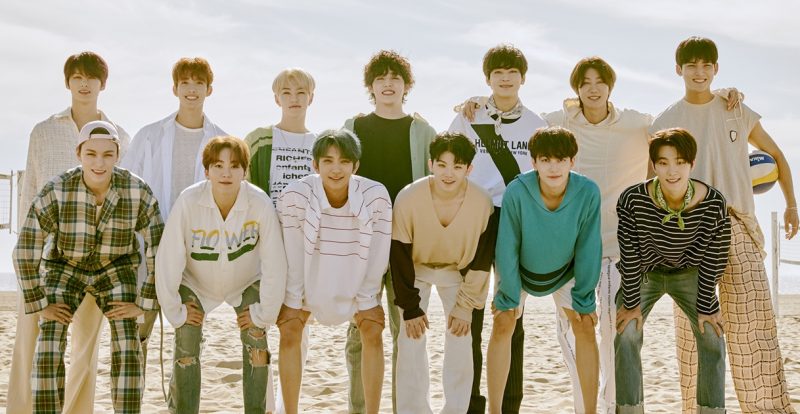 SEVENTEEN achieved by earning the title of "million seller" with their 7th EP, 'Heng:garæ'!
SEVENTEEN's 7th EP 'Heng:garæ', released on June 22nd, surpassed 1.09 million copies in the initial sales volume, becoming a million seller and breaking another record of their own, topping the second largest initial artist sales in 2020.
In particular, SEVENTEEN, which has shown steady growth since the debut, has grown about 1,000 times the sales of the debut album, the 1st EP '17 CARAT'. BTS and SEVENTEEN are artists that have sold more than 1 million copies in initial sales.
SEVENTEEN, which quickly broke the pre-order amount of 1.06 million copies in just five days after the pre-order sales began, set a milestone in K-pop history, leaving a meaningful achievement of becoming a "million seller" in just five days after its initial counting period.
In addition, SEVENTEEN is revealing not only the title track 'Left & Right', but also recorded songs, sweeping the top charts around the world, including major domestic music charts, overseas iTunes charts, Billboard Japan, and Chinese QQ music K-pop charts.
Like this, SEVENTEEN achieved their best record with the 7th EP 'Heng:garæ', which conveys a message of cheer to the youth who is challenging toward the dream, the hot spotlight around the world is spreading joyful youth ceremonies, and attention is paid to the appearance of those who will toss 'Heng:garæ' higher.
Meanwhile, Seventeen will continue the activities with the title track "Left & Right" of the 7th EP.
Find high-quality KPop photos, Wallpapers and Images-download for free : https://www.kpopimages.com