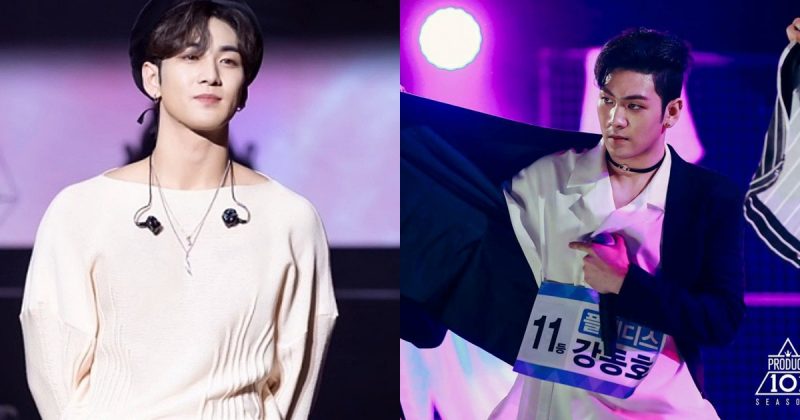 The fact is Kang Dongho is the victim and Ahn Joon Young is the perpetrator in this story.
The court also defined Kang Dongho as a "victim". According to the judgement of the appeal court obtained by Dispatch, Ahn Joon Young and others mistreated trainees by manipulating the vote results and deprived them of opportunities.
"The trainees who suffered the damage are as follows. Kang Dongho was eliminated by manipulating the results of the 4th poll of "Season 2" (Court Appeal)
However, Kang Dongho is now facing an arrow of criticism. They are saying that he provided the basis for the ranking manipulation. This is Ahn Joon Young's goal to reduce the sentence.
The final ranking was manipulated and eliminated. This means that he trampled one's hope and dream. He sold Kang Dongho to live and sold his pain to use as an excuse for manipulation.
Ahn Joon Young and Mnet staff knew Kang Dongho was suffering from anxiety disorder. In fact, Kang Dongho fell on the road during the filming and Dispatch secured the testimony of "Produce 2" officials.
"While shooting a VCR in Cheongdam-dong, Kang Dongho suddenly sat down on the road saying he couldn't breath. Staff member quickly called Kang Dongho's agency due to urgent situation".
The diagnosis Kang Dongho received from the hospital was anxiety disorder. Even though he knew the symptoms he participated and competed at "Produce".
Close friend of Kang Dongho mentioned to Dispatch, "To Dongho, Nu'est is all he has. To him members are his best friend and brothers. But to compete with them made his mental broke down".
"Nu'est is a group that has suffered a lot. They only had each other to endure and considered "Produce" as last chance and participated. Even though Dongho knew he will have this pain but he decided to hold on to it and competed".
Kang Dongho had conversation with the agency about his difficulties these days and he mentioned that it is okay for him to be dropped off, because it's enough that he announced Nu'est again to public.
Pledis Entertainment actively helped Kang Dongho with his treatment and his condition also pointed out to Mnet. The problem was that Ahn Joon Young made an interpretation on Dongho's saying "It's okay to fall right now" to "I want to fall right now".
In May 2017, in Incheon Samsan Gymnasium the two met on the hallway. Ahn Joon Young asked, "Did you say you want to drop off from the competition?" and Kang Dongho replied, "I will be okay if I get to dropped off".
Two years later, this answer became Ahn Joon Young's excuse for the manipulation. He kept mentioning that "because the trainee wanted to drop off from the competition, I changed the rankings".
The judge did not listen to Ahn Joon Young and made a fact that he is the perpetrator and Kang Dongho as a victim.
Attorney Bang Jeong Hyun explained, "In order for Ahn Joon Young's logic to be established, Kang Dongho must be recognized for his accomplice and become a suspect, Neither the interrogative agency nor the court admitted Ahn Joon Young's argument".
Ahn Joon Young sold Kang Dongho for his sins. Few netizens adopted Ahn Joon Young's excuse(which the court did not even admit). He used as a weapon of blame for Kang Dongho.
Kang Dongho's close friend mentioned, "It is no doubt how Kang Dongho spends his one minute and one second of his life. Dongho once said it was difficult but he finished with his best effort so there is no shame in every vote he received".
Find high-quality KPop photos, Wallpapers and Images-download for free : https://www.kpopimages.com