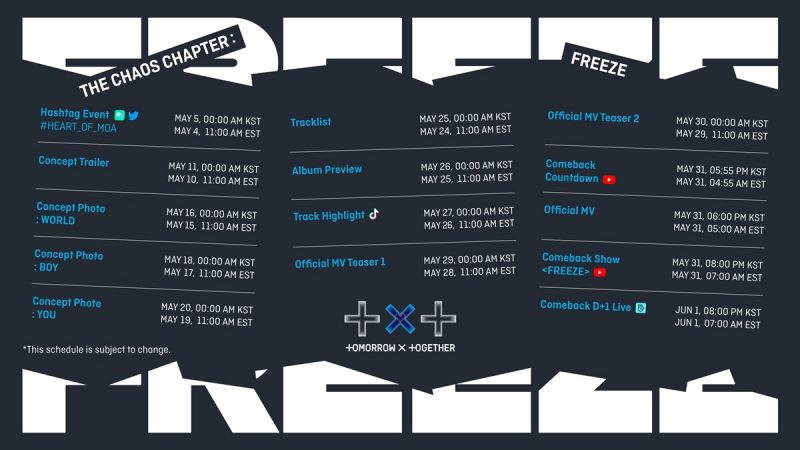 Tomorrow X Together released promotion scheduler.
On May 3rd, TXT posted the promotion schedule of their second regular album, 'The Chaos Chapter : Freeze" on their official SNS. They predicted a variety of contents that will be released one after another until the day of their comeback.
According to the schedule, TXT will release a concept trailer on the 11th, starting with the hashtag event '#HEART_OF_MOA' on the 5th. The concept photos 'WORLD', 'BOY', 'YOU' will be sequentially published on the 16th, 18th, and 20th, followed by the track list on the 25th. The album preview on the 26th, the track highlight on the 27th, and the 29th and 30th official music video will be released.
Various contents are also prepared on the 31st, which is the comeback day. Just before the sound source and official music video of 'The Chaos Chapter : Freeze' are released to the World at 6pm, TXT will go through a comeback countdown at 5:55pm. In addition, a comeback show is aired at 8pm, allowing fans around the World to spend a day full of TXT.
TXT will communicate with fans through 'Comeback D+! Live" on June 1st, the day after their comeback.
Find high-quality KPop photos, Wallpapers and Images-download for free : https://www.kpopimages.com