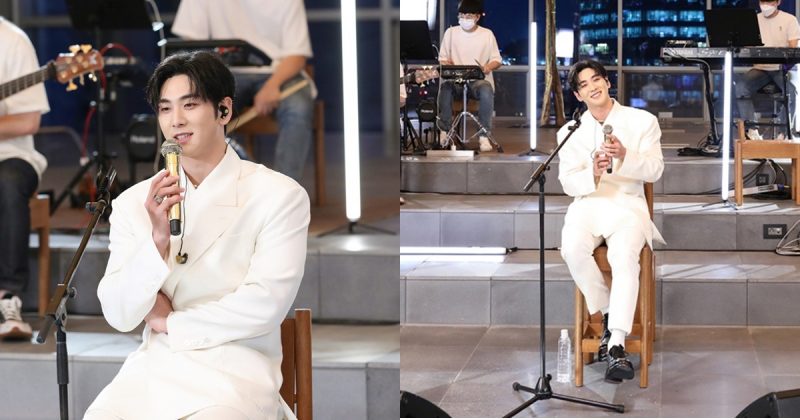 NU'EST member Baekho spent a special time with his fans on his birthday.
On the 21st, Baekho held an online busking performance "BAEKHOn21" through Naver V Live NU'EST channel. For about an hour, he made unforgettable memories with domestic and foreign fans.
This performance was held to commemorate Baekho's 27th birthday. In order to repay the warm love from fans, Baekho participated in the project and gave general opinions.
rior to the full scale event, spoiler photos raised the expectations of fans. At the beginning of the show, Baekho drew attention by revealing the stage of 'Need It' in a surprise.
He said, "It's my birthday today, so I prepared a surprise for the love people. As before, I couldn't meet the people in person so I decided to try busking online".
This performance was followed by the theme of 'On My Mind'. Baekho presented 'Trust Me' and 'Call Me Back' arranged in acoustic band versions.
As the second theme, 'On the Table' was selected. "I prepared this because I wanted to share time with the LOVE, who will be sitting at their own tables after the day is over" Baekho mentioned.
He showed his affection for his fans. Baekho presented the stage for 'Love Paint' and said, "It's a song loved by LOVE and it's nice to be able to show it on such a good day".
Baekho sang 'If We Loved' and 'Drink the same tea as me' in succession. Finally, the performance ended with 'Happy Birthday' and the encore stage 'I was happy until now'.
Baekho said, "Thank you once again for being with me today. It's always hot during my birthday, but I think I always felt warm rather than hot. It's al thanks to LOVEs".
Meanwhile, Baekho will appear in the creative musical 'Song of the Sun', which will be held at the BBCH Hall of the Gwanglim Art Center until the 25th.